Opportunities to reach a loyal genre audience.

Keep up to date with our convention events and merchandise news!

See Creation's great items now up for auction!

Vendors and store owners, click for information.

Comments about our events and service.

Some of the charitable causes we support.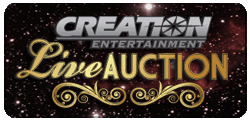 As of September 1, 2017 Creation Entertainment no longer offers wholesale merchandise to resellers. As of this writing, we do not anticipate offering wholesale merchandise in the future.

Thanks for your interest!