Updated: June 23, 2017

More Events To Be Announced Soon!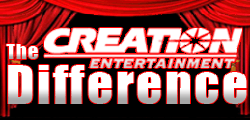 Unlike so many other genre conventions, Creation Entertainment has a strict company policy not to "oversell" our conventions. In other words, every patron, no matter what bracket of ticket they purchase, will have a seat in the main auditorium where the major guests appear and events take place. Nothing upsets us more than hearing about other conventions that sell tickets to patrons and then those very same patrons have to wait on additional lines inside the facility to get into (or sometimes not!) the main theatre. An important Creation Entertainment difference we want you to know about!

The Creation difference extends to our 40 years experience in running fan conventions. In the last few years we've seen promoter after promoter fail taking hard earned ticket money down with them. Inexperienced promoters, often first-timers, use celebrity images and names to get ticket money which they use to hopefully pay their expenses. When that fails they've already gone through "your" ticket money and they collapse leaving no recourse for ticket holders. They say "buyer beware" but this has happened in Twilight, Star Trek, Battlestar Galactica, and Firefly fandom (to name just a few) and we really feel for those great fans who have lost their ticket money and upset travel plans. Please note that tickets are delivered to you via e-mail in PDF format which you should print out and bring with you to convention registration. Most customers receive their PDF tickets within 3-5 business days of having placed their order.
All Convention tickets have a $7.75 shipping/handling fee charged per ticket ordered. This applies to all online, phone, fax and mail orders.
ALL GUESTS are contracted to appear and all convention contracts specify that appearances are tentative and subject to change as film and television work demands take precedence as can a personal conflict. Our events will take place whether a specific guest cancels or not (we always try to book replacements) and therefore we can not issue admission ticket or ticket package refunds if a particular guest does not fulfill their appearance contract. Of course we will always refund separately purchased photo ops and autograph tickets for a guest if they cancel.

PHOTO TAKING POLICY AT THIS CONVENTION We know that taking photos makes the convention even more fun and we thought it would be a good idea to share our photo taking policies for you before you arrive at the convention so you can prepare. In the auditorium, photo taking is encouraged, but only from your seat. It is unfair to run up to the stage and block the view of others who have paid for reserved seats in front of you. Even if there are empty seats, patrons must sit in the seats they paid for to be fair to everyone. Due to fire marshall regulations everyone must be seated during performances. Please also be courteous to your neighbors when taking pictures. Photo taking is not allowed during autographing sessions nor during the photo ops. Only those people who have autograph tickets may come up to get autographs. At the Gold Exclusive Parties and Breakfast: photo taking is encouraged when the guests arrive (but only from your seats). After a sufficient time for all to get their photos we ask that your cameras be placed down so the celebrities can enjoy their time at the two food functions. Thank you for understanding the need to have these few rules so everyone is safe and has fun.

The vast majority of our guest celebrities take questions from the audience during their on-stage time. Therefore it is incumbent upon those that ask questions to make them ones that allow our mutual shared time with the celebrities to be enjoyable, interesting and entertaining for all (including the guest). Asking for hugs, telling stars we love them (we all do, that's why we're here), giving gifts, getting into long personal stories, or worse, is not acceptable for this format and, in fact, is quite self-centered when you are in essence "representing" all of fandom to a celebrity. Join us in trying to make this convention the best entertainment for everyone!

In the event of convention cancellations or date changes Creation Entertainment is not responsible for patrons' costs involving travel or hotel accommodations or any other non convention ticket expenses.

Advance ticket sales are generally turned off early to mid-week of the week of the events. Tickets, if they are not sold out, are sold at the convention of course.