Updated: August 4, 2017
Creation Entertainment's 16th Annual Las Vegas
Official STAR TREK Convention 2017

LAS VEGAS, NV
Wednesday, Thursday, Friday, Saturday and Sunday
August 2-6, 2017




The Rio Suites Hotel
3700 W. Flamingo Rd.
Las Vegas, NV
Online tickets have been taken off sale.
Now tickets listed as available on this website can be purchased at the door.
August 4th 2017 - Unfortunately, we have been advised that Jonathan Frakes is unable to make his attendance to The Star Trek Official 2017 Convention. As a result, we have implemented the following.

Jonathan Frakes Solo Photo Ops: Please see Ed at the photo op ticket area, and bring your PDF ticket, there you will be issued a voucher which you can use to purchase any available autographs, photo ops, or Creation produced merchandise at our booth.
• If you prefer a refund, send THE VOUCHER you receive from Ed, within one month after the close of the convention. Send to Creation 217 South Kenwood, Glendale, CA 91205 Attention: Ed.
Ten Forward with the TNG Cast \ TNG Cast Photo: Denise Crosby and John de Lancie will take Jonathan Frakes's place in his absence.
•If you prefer a credit voucher or refund, please see Ed at out photo op ticket table, and he will be able to assist you.

Sorry for the inconvenience,
Creation Entertainment

We let some of our cosplayers have some extra fun in our Bridge recreation set: check it out!

Here's the latest trailer for the eagerly awaited STAR TREK: DISCOVERY.
Expect a lot of talk about the new TV series and the convention, and hopefully some major surprises!
CREATING AMAZING MEMORIES AT THE 2016 CREATION ENTERTAINMENT OFFICIAL STAR TREK CONVENTION: JOIN US IN 2017 FOR MUCH MORE!
Have fun and check out fan pics and coverage of
the monumental 50th Anniversary Convention in 2016 in Las Vegas


Creation Entertainment's Owners are Interviewed at the 50th Annual Star Trek Convention

Scott Mantz talks about his history with Star Trek and Creation Entertainment.
Welcome to the prelimary "get out the word" site about the biggest and best 2017 gathering of Star Trek fans around the galaxy as we all plan to convene in the fabulous city of Las Vegas for the biggest and best Star Trek Convention of all once again.

It all happens August 2-6, 2017 (WITH PRE-REGISTRATION ON AUGUST 1 FOR FULL CONVENTION ATTENDEES) for the incredible 16th Annual event in Vegas, and we're rolling out the red carpet for our fellow fans: whether those who discovered the series at the very start over 50 years ago, first loved the original show in syndication, became regular watchers of The Next Generation or following series' years later, loved the feature films both with the original cast or new stars, or recently became Trekkers because of the new CBS series. No matter how, you will immediately feel surrounded by the love of Gene Roddenberry's spirit of progressive inclusion which we hopefully know is ongoing, albeit a bit too slowly, for most of us who have been Trekkers for our entire life. Of all sci-fi genre shows, it was the incredible innovation of Roddenberry's spirit of a positive future that led us all to be witness to his prediction of so many technological and socialogical gains we've made as a society in just five decades.

Virtually all STAR TREK fans would say that the week in Vegas is absolute singular and unlike any other fan gathering throughout the world and fans, staff and studio all felt the 2016 edition was the best Star Trek Convention ever. Not only because of featuring over 100 guests, unbelievable thousands in cos play, and non-stop action and free stuff included, but because of the immediate friendships you will make, some last a lifetime.

With parties and musical performances way into the night, full dinner parties and guest hosts and an on stage band, and the bar scene hopping after: it is virtually 24 hours a day of all things Star Trek and with the new series and feature films continuing, plus the easy ways to catch up on hundreds of other episodes and the amazing movies to date: there is a lot of Star Trek to really love. In 2016 we had three total programming tracks filled with events and guests and contests with our famous Promenade Area that was up to the rafters with unique complimentary craftspeople and photo opportunities, and of course there was the world's largest Trek vendors room, signers area, art display, photo ops, autographing, props for picture taking and the famous original series bridge. And that's just a small part of the fun, much of what will be recreated along with changing and new attractions for all.

We never rest our laurels: as we feel we must always try to do better to honor our mentors Gene, Leonard and DeForest as well as so many others who join us in spirit each year. Best of all, and unlike virtually all FAN conventions, EVERYONE who buys a ticket for this event is GUARANTEED a seat in the theatre, no worrying or waiting about seeing who and what you want: that's the "Creation Difference" and makes your visit a full vacation as opposed to fighting the ungodly crowds that you'll find at other fan events.
ALWAYS, make sure you are on our FREE Star Trek email bulletin service so you know about new guests and developments, new ticket launches, and all the latest news: don't be left out in the cold: join us as The Human Adventure Continues...

For 2017 follow us at:
#STLV
Follow along with updates and photos from Twitter, Facebook, Instagram, and Pinterest all in one convenient streaming location!





#STLV50 SOCIAL MEDIA STREAM

Creationent.stlv-50.com

On this page you'll find our famous "social media aggregator" so you can check out various scenes that fans posted about the last convention as well as the exciting build up to 2017. Soon we'll have our own professional shots and videos from 2016 and if you have anything unique you'd like up here please send it to asponsor@creationent.com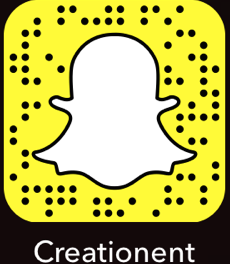 Look for Snapchat coverage of selected Creation Conventions!