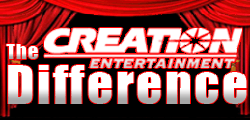 Unlike so many other genre conventions, Creation Entertainment has a strict company policy not to "oversell" our conventions. In other words, every patron, no matter what bracket of ticket they purchase, will have a seat in the main auditorium where the major guests appear and events take place. Nothing upsets us more than hearing about other conventions that sell tickets to patrons and then those very same patrons have to wait on additional lines inside the facility to get into (or sometimes not!) the main theatre. An important Creation Entertainment difference we want you to know about!
The Creation difference extends to our 40 years experience in running fan conventions. In the last few years we've seen promoter after promoter fail taking hard earned ticket money down with them. Inexperienced promoters, often first-timers, use celebrity images and names to get ticket money which they use to hopefully pay their expenses. When that fails they've already gone through "your" ticket money and they collapse leaving no recourse for ticket holders. They say "buyer beware" but this has happened in Twilight, Star Trek, Battlestar Galactica, and Firefly fandom (to name just a few) and we really feel for those great fans who have lost their ticket money and upset travel plans.
**All Convention tickets have a $7.75 shipping/handling fee charged per ticket ordered. This applies to all online, phone, fax and mail orders. Note: Our ticketing office (Leticia) direct e-mail address has been changed to: creatickets@creationent.com
***Attention Attendees: Do not purchase Creation Tickets from scalpers or anyone trying to offer tickets as you arrive at our convention locations. Each ticket is checked for authenticity at the door with a scanner and we can not let you in if your ticket is counterfeit (which has happened recently). Each ticket once scanned makes any and all copies of that same one of a kind scan void and we can only let the first person in with it. Please ony buy your tickets only from Creation in advance or at the door, we seen too many nice folks lose their hard earned money this way and be turned away. Thanks, we appreciate your support!
WANNA VOLUNTEER AT THIS CONVENTION?
GREAT! IT IS MUCH APPRECIATED!
Just drop Toni a line at the link below, mentioning the convention you are interested in!

PLEASE INCLUDE:
CONVENTION NAME, CITY & DATE IN THE SUBJECT LINE OF ALL CORRESPONDENCE.
A separate email is required for each show you wish to volunteer for. A separate email is required for each person volunteering. All volunteers must be 21 yrs or older.
We really appreciate your help in publicizing this event on-line. Grab our banners to put on your site!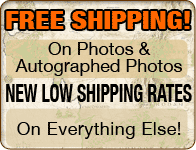 ALL GUESTS are contracted to appear and all convention contracts specify that appearances are tentative and subject to change as film and television work demands take precedence as can a personal conflict. Our events will take place whether a specific guest cancels or not (we always try to book replacements) and therefore we can not issue admission ticket or ticket package refunds if a particular guest does not fulfill their appearance contract. Of course we will always refund separately purchased photo ops and autograph tickets for a guest if they cancel.
PHOTO TAKING POLICY AT THIS CONVENTION
We know that taking photos makes the convention even more fun and we thought it would be a good idea to share our photo taking policies for you before you arrive at the convention so you can prepare. In the auditorium, photo taking is encouraged, but only from your seat. It is unfair to run up to the stage and block the view of others who have paid for reserved seats in front of you. Even if there are empty seats, patrons must sit in the seats they paid for to be fair to everyone. Due to fire marshall regulations everyone must be seated during performances. Please also be courteous to your neighbors when taking pictures. Photo taking is not allowed during autographing sessions nor during the photo ops. Only those people who have autograph tickets may come up to get autographs. At the Gold Exclusive Parties and Breakfast: photo taking is encouraged when the guests arrive (but only from your seats). After a sufficient time for all to get their photos we ask that your cameras be placed down so the celebrities can enjoy their time at the two food functions. Thank you for understanding the need to have these few rules so everyone is safe and has fun.
The vast majority of our guest celebrities take questions from the audience during their on-stage time. Therefore it is incumbent upon those that ask questions to make them ones that allow our mutual shared time with the celebrities to be enjoyable, interesting and entertaining for all (including the guest). Asking for hugs, telling stars we love them (we all do, that's why we're here), giving gifts, getting into long personal stories, or worse, is not acceptable for this format and, in fact, is quite self-centered when you are in essence "representing" all of fandom to a celebrity. Join us in trying to make this convention the best entertainment for everyone!
In the event of convention cancellations or date changes Creation Entertainment is not responsible for patrons' costs involving travel or hotel accommodations or any other non convention ticket expenses.
Advance ticket sales are generally turned off early to mid-week of the week of the events. Tickets, if they are not sold out, are sold at the convention of course.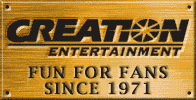 Our first convention program in 1971, ticket prices were $1.50 a day and our special guest was legendary comic artist superstar Jim Steranko!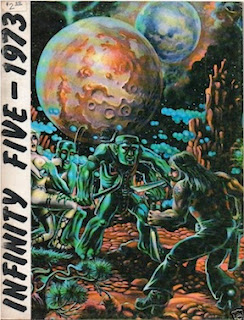 We even had time to publish 6 issues of a popular comic art fanzine called Infinity when we were teenagers. Back in the days before the internet, printed fanzines and conventions helped keep fandom connected.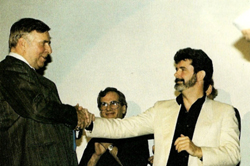 When we ran The Official STAR WARS Convention we brought in Gene Roddenberry as a surprise and this moment in time was a true highlight. Gene was a great mentor of ours and he is always in our thoughts, especially when we gather for our Official STAR TREK Conventions.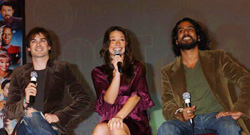 LOST was one of the great TV series of all-time and we were proud to be an official licensee for the show. Here three of the stars, Ian Somerhalder, Evangeline Lilly and Naveen Andrews, grace our stages in a Creation Convention appearance.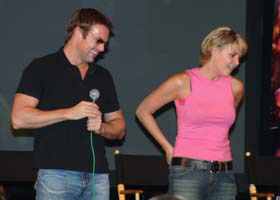 Two of our most popular celebrity guests from the Stargate franchise making their only Creation appearance together on stage: Michael Shanks and Amanda Tapping! We love following their careers post Stargate and look forward to enjoying their work for years to come!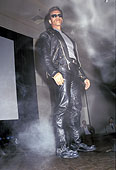 How's this for cool? Arnold as THE Terminator at our Official T-2 Convention, an awesome occasion!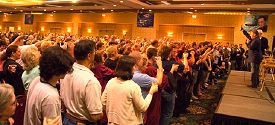 A VERY special moment in Creation History
BILL SHATNER & LEONARD NIMOY toasting the 40th Anniversary of Star Trek on the exact day, 4 decades later, that the original series began its TV run! Taken in Chicago at Creation's Salute to Star Trek's 40th! Thanks, Bill and Leonard for being such a big part of Creation Entertainment! Who would have thought that as kids that watched classic Trek, that one day we'd be working with these show biz legends!

History is made again at Creation when LEONARD NIMOY passes the ceremonial "#1 Vulcan" tee-shirt to the new Mr. Spock ZACHARY QUINTO. It all happened in front of the audience at Grand Slam XVI. Creation Conventions: it is ALL about making wonderful memories like this!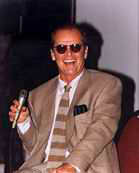 Superstar Legend Jack Nicholson made the "Creation" scene, a definite ultra-cool moment in our 40 plus year history!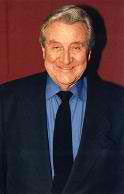 Growing up watching THE AVENGERS was a particular joy so when Patrick Macnee joined the Creation line-up of stars it was a joyous occasion for us and his many fans!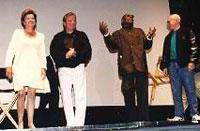 It's never happened before or after but it was another of our proudest moments: having four STAR TREK Captains share the stage. Let's hope we can pull it off again some day and add a few more?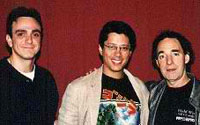 Long-time Creation friend (and early fan attendee turned superstar producer) DEAN DEVLIN brought along friends Hank Azaria and Harry Shearer to one of our shows. Dean is currently behind one of TV's greatest shows LEVERAGE!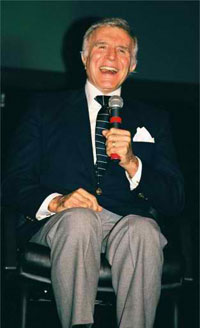 The impeccable Ricardo Montalban created Star Trek's most popular villian as Khan but in person he truly was one of a kind and his two appearances for us were definitely amongst the most memorable! He is sorely missed by all Trekkers and was indeed a Hollywood classic himself!
Here's some shots of Leonard Nimoy's last convention appearance (courtesy of Paul Harvath), taken at our Chicago 2011 Official STAR TREK Convention. Thank You Leonard for your three decade association with Creation: we've loved every minute of presenting you to your adoring fans (of which we number ourselves!):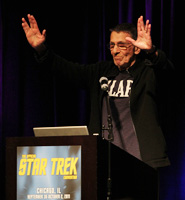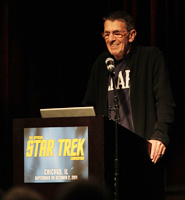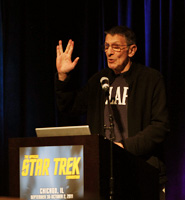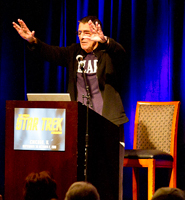 Leonard Nimoy's emotional farewell to Star Trek Conventions: 2011 Chicago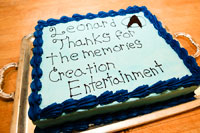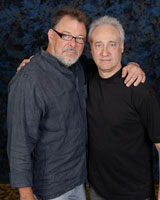 These guys are HILARIOUS on stage together and we love having them at our events: true superstars of the genre: Jonathan Frakes (now busy directing) and Brent Spiner!
PLEASE READ THIS PAGE COMPLETELY BEFORE ORDERING ANY TICKETS.
Be sure of which day a guest is doing photo ops/autographs
before purchasing your admission tickets.
Please note that tickets are delivered to you via e-mail in PDF format which you should print out and bring with you to convention registration. Most customers receive their PDF tickets within 3 business days of having placed their order.
Creation Entertainment's
Official STAR TREK Convention
THE CELEBRATION OF THE 47TH ANNIVERSARY OF GENE RODDENBERRY'S LEGACY
Nashville, TN
Saturday & Sunday
September 7-8, 2013

Gaylord Opryland Hotel
2800 Oprland Drive
Nashville, TN 37214

Self Parking: $20, Valet Parking $26
47 years ago Gene Rodddenberry presented STAR TREK on NBC to a discerning audience that has grown exponentially over the decades and through the world to the very current day which sees hundreds of television episodes, novelizations, feature films including the major budget smash JJ ABRAMS' version, and a huge myriad of merchandise. Our favorite thing, of course, is the opportunity to meet and mingle with our fellow STAR TREK fans from around the globe at our various Official STAR TREK Conventions, none more special than the upcoming visit to Nashville because not only are we on the anniversary date but we have an outstanding roster of super celebrities plus we are at our very favorite place to run the conventions: the gorgeous Gaylord Opryland Hotel: a true vacation destination on its own, filled with tons of restaurants, bars, hanging out areas, and just places to check out. And, of course, we're right near all of Nashville's other famed sites and sounds: MAKE YOUR VISIT WTIH US INTO A FULL SCALE HOLIDAY... check it out...

KATE MULGREW

(CAPTAIN JANEWAY)
Inspirational, moving, thought-provoking and hilarious, it is an honor to welcome the sensational Ms. Mulgrew to The Nashville Area. Her role on Star Trek: Voyager literally changed the face of television forever.
Kate will be appearing on stage SATURDAY AND SUNDAY and doing autographs and photo ops as well both days. Don't miss her!
WALTER KOENIG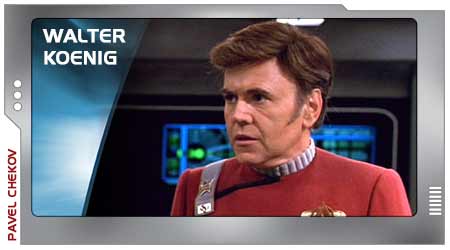 (CLASSIC STAR TREK'S LEGENDARY CHEKOV)
Appearing Saturday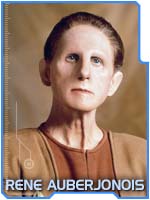 Rene Auberjonois
(Odo of Star Trek: DS9)
Celebrating the 20th Anniversary of this epic adventure which gets better over time it is an honor to welcome this distinguished and multi-talented performer to our stages on Sunday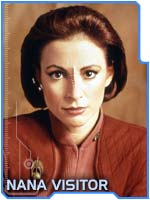 Nana Visitor
(Major Kira of Star Trek: Deep Space Nine)
Creating one of television's strongest genre characters of all-time Nana showcased many of her talents with her work on DS9, but she went beyond as well with numerous other performances and by starring on Broadway in the big musical CHICAGO.
Nana will be with us on Sunday as we salute the 20th Anniversary Salute to DS9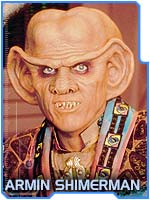 Armin Shimerman
(Ferengi Barkeep Quark of Star Trek Deep Space Nine)
Armin created one of the most memorable of all of the franchises' characters! Fans, of course, know Armin from tons of other work including appearances on Castle, Warehouse 13, Keveragem Boston Legal, Invasion, Joan of Arcadia, Buffy, ER, Charmed, Star Trek: The Next Generation, Beauty and the Beast and so many more.
Armin will be with us on Sunday.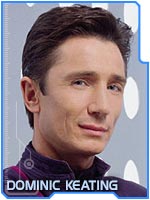 Dominic Keating
(Lt. Malcolm Reed of Star Trek: Enteprise)
Hosting our FREE karaoke party on Saturday Night and also appearing on stage Saturday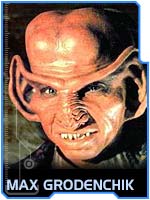 Max Grodenchik
(Rom of Star Trek: Deep Space Nine)
Max will appear on stage as ROM along with Aron as NOG on Sunday of the convention. They will also be doing photo ops in character and both will be available throughout the rest of the convention out of costume in the vendors room where they will meet attendees and offer their autographs for a nominal fee directly.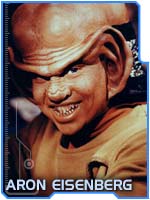 Aron Eisenberg
(Nog of Star Trek: Deep Space Nine)
Aron will appear on stage as NOG along with Max as ROM on Sunday of the convention. They will also be doing photo ops in character and both will be available throughout the rest of the convention out of costume in the vendors room where they will meet attendees and offer their autographs for a nominal fee directly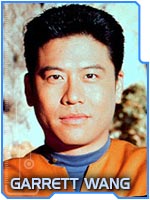 Garrett Wang
(Star Trek: Voyager's Harry Kim)
Hosting our FREE karaoke party on Saturday Night and also appearing on stage Saturday.
Garrett will also have a table in the vendors room to meet fans and offer his cool merchandise line for display and sale.


STAR TREK MUSIC VIDEO COMPETITION
One of the coolest highlights of the convention is the running of fan produced Music Videos honoring STAR TREK, its themes. legacy and characters. If you are a talented video editor now is your chance to show off your creativity and vie for prizes at THE OFFICIAL STAR TREK Convention Tour 2013.

Rules: one music video about STAR TREK may be submitted on DVD only (please no computer-based media like CD accepted). PLEASE USE ONLY NTSC FORMAT FOR YOUR DVD. Entries are judged on the following criteria: video quality, audio quality, editing quality, inventiveness, song selection, and originality. Humorous submissions are encouraged. Entries can not be returned, and person submitting entry is granting Creation the right to play this entry in perpetuity at Creation events worldwide and/or on line at the Creation website(s). Creation does not sell music videos so your entry will never be sold as a commercial product, just presented at our events/on line. (WE ARE PARTICULARLY INTERESTED IN VIDEOS SALUTING SOME OF THE SUPPORTING CHARACTERS AT OUR EVENTS SO WE CAN INTRODUCE THEM WITH VIDEOS, SO PLEASE KEEP THIS IN MIND!)

Winners will receive a $100 gift certificate good for Creation products. Winners will be announced and certificates awarded on site. Please tell us which specific convention the music video is for and send In your video using order confirmation or signature required in order to know if it has arrived. We do not announce winners until the event. Thanks and good luck!

Note: Due to the high volume of entries for our Music Video Contests, we are forced to limit entries to those people actually attending the specific show they are entering for. You do not have to be present for the actual showing of your video, but you must claim your award on site before the end of the weekend or your award will be forfeited. URGENT: PLEASE NOTE THAT COMPETITION CLOSES FORTY DAYS PRIOR TO THE ACTUAL OPENING CONVENTIONS, NO EXCEPTIONS!
SEND ENTRIES TO:
Creation Entertainment
STAR TREK Music Video Contest
217 South Kenwood St.
Glendale, CA 91205


THE CREATION COSTUME PARADE
Star Trek fans get to use their creativity and skills by entering the famous Star Trek Costume Contest set for Saturday! This year along with a $250 gift certificate first prize for best costume in the show we are offering an additional gift certificate prize of $200 for best DS9 costume in honor of that epic series' 20th Anniversary Year. So, come in costume and really shine!


The bargains are huge, the bidding fast and furious: stake your claim to rare collectibles, autographed items and our famous stage banners and go home a winner! There's no better place to land a "deal" so get ready for the fun! Two auctions are planned for the weekend!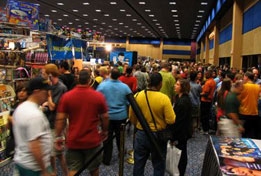 THE FAMOUS STAR TREK VENDORS ROOM
Lots of Star Trek and genre merchandise is on sale and your collection is waiting for new stuff! Come to browse, come to buy, come to wander: it all happens in the NASHVILLE Convention Star Trek vendors room!

VENDORS: CLICK HERE TO GET FULL INFORMATION ON PARTICIPATING!


SPECIAL ON-STAGE WORKSHOP SATURDAY: John Paladin on Character Make-Up
John Paladin is a former radio Disc Jockey, has had two records on the country charts, has acting credentials in radio and commercials, and movies. His makeup expertise goes back over 10 years, including being J.G. Hertzler's personal makeup artist on "Star Trek: Of Gods and Men" and being the head special sfx makeup artist on "Star Trek: Kitumba" [ both productions from "Star Trek: Phase II" Productions]. He is also featured as a Klingon in "Kitumba". He will be designing some very special (and recognizable) characters for presentation at this convention: ROM AND NOG! This is a great event for all who like to learn about costumes to attend!


SPECIAL 5% OFF OF AMERICAN AIRLINES FLIGHTS FOR THOSE
COMING TO THE CONVENTION, click here for details...
Convention Tickets
Please make sure to bring ALL your printed out tickets to the convention as we can not replace any tickets forgotten or lost. This holds true for all ticket-buyers domestic and outside of The United States as we no longer have a will-call or hold ticket desk. Our convention sites generally have a business office where you can print out your tickets if you have left them home by mistake. Once you present your ticket(s) at registration, photo op areas, or autograph sessions they will be scanned for legitimacy and one-time use only. Thanks!
Customer Support E-Mail: ANY problem you have please write to us at:
and we'll look into it and get right back to you. Thanks!
NOTE: You may buy Photo Op and Autograph tickets before buying an Admission ticket, but you need an Admission Ticket in order to use the Photo Op and Autograph tickets. Please buy an Admission ticket as soon as you can as we can never guarantee Admission tickets won't sell out before the show. Join our Free Email list to get updates on ticket availability.

GOLD WEEKEND ADMISSION PACKAGE
Join the celebration of all things Star Trek by doing it up in high style. Our top of the line GOLD WEEKEND PACKAGES offer a bucket load of benefits designed to give you the absolute best experience. Here's what you get when you "Go Gold" at NASHVILLE Official STAR TREK Convention ....
1) The very best reserved seating for our daytime main auditorium events,both days ! Great for photographers and with our ticket ordering system you get to pick your actual seat in the theatre... be close to all the action, reserve as early as possible!

2) Complimentary in person autographs* from attending celebrities KATE MULGREW, GARRETT WANG, ARMIN SHIMERMAN, NANA VISITOR, RENE AUBERJONOIS, and DOMINIC KEATING. That's right you will meet these great celebrities in person and have the item of your choice autographed by them (you can bring your own item from home or purchase a photo or souvenir in the vendors area). This benefit alone is worth a substantial portion of the price of The Gold Package! This list is tentative and subject to change.

3) First to get autographs when going row by row as you are in the front rows!

4) Complimentary admission to the FREE KARAOKE PARTY hosted by Dominic Keating and Garrett Wang. They will be joined by surprise celebrities: come to sing, come to hang with fellow fans, come to enjoy! A cool way to enjoy a nice Southern night in a beautiful hotel!

5) Pre-Registration for Gold Patrons (you get registered first so you can hit the vendors room earlier than other patrons). Pre-Registration is not a necessity, it is a convenience:

6) Wristbands for immediate entrance without waiting on line once you come through the first time

7) Admission to our vendors room, of course!
$279

FIRST ROW SEATING HAS A PREMIUM PRICE OF $349. You may order first row seats by calling LETI at 818 409 0960 x 225 Tuesday through Thursday 9:30 am to 3 pm Pacific Time.

ANNOUNCING "THE WORKS"
"The Works" is the best way to stay at the Gaylord and also attend the convention as a GOLD WEEKEND PATRON as you save money. You get a room (single, double or twin) which is normally $149 a night plus a $18 resort fee nightly for two nights (FRIDAY AND SATURDAY NIGHTS) and a GOLD WEEKEND PACKAGE for the low price of $577. In order to reserve "The Works" Packages you must call Amy at (818) 409 0960 x 216 weekdays 9 am to 3:30 pm Pacific Time and have the following info ready:
Guest's Name
Number of guests in the room
Room Type Request (single or double, traditional or premium)
Guest's Address
Guest's Phone Number
Guest's Email
Arrival Date
Departure Date
IF YOU WANT TO STAY MORE THAN TWO NIGHTS AT THE HOTEL THE PROCES WILL BE EXPLAINED TO YOU ON THE PHONE.
The Gaylord Opryland, Nashville, TN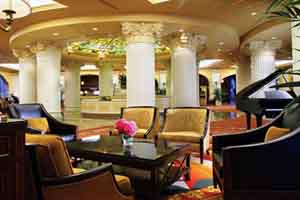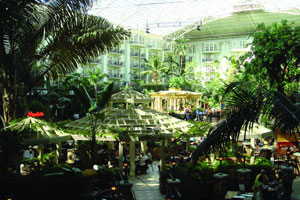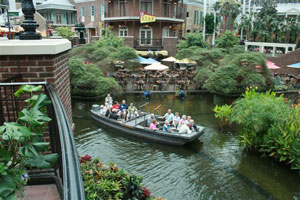 ADDITIONAL TICKETING OPTIONS INCLUDING SILVER WEEKEND PACKAGES, SINGLE-DAY AND GENERAL ADMISSION WILL BE ANNOUNCED AS WE GET CLOSER. PLEASE BE ON OUR FREE EMAIL LIST SO YOU ARE ADVISED OF NEW TICKET OPTION LAUNCHES! THE WORKS PACKAGES ARE ONLY AVAILABLE WITH GOLD WEEKEND PACKAGES.
Children 6 and under (please bring proof of age) will be free. Other than that all kids are required to hold a full priced ticket for seating.
ADMISSION TICKET PACKAGES DO NOT INCLUDE PHOTO OPS and these must be purchased separately below or at the convention (if not sold out). Thanks!
NOTE: You may buy Photo Op and Autograph tickets before buying an Admission ticket, but you need an Admission Ticket in order to use the Photo Op and Autograph tickets. Please buy an Admission ticket as soon as you can as we can never guarantee Admission tickets won't sell out before the show. Join our Free Email list to get updates on ticket availability.

IN PERSON STAR TREK CELEBRITY AUTOGRAPHS
Autograph and Photo Op Tickets do not include admission to the convention. You must have an admission ticket for the convention in order to redeem autograph and photo op tickets. Photography is not allowed during the autograph sessions.
One of the coolest things about the convention is the chance to get in person autographs on the item of your choice (you can bring something from home or purchase a photo or souvenir at the convention). At this particular show, due to popular demand, many of the stars will be present throughout the majority of the weekend, at tables in the vendors room, where you can purchase your autographs directly from them. Those stars participating in that way are noted below. THANKS!
KATE MULGREW $45 (Saturday and Sunday).
WALTER KOENIG $35 (Saturday) Note that WALTER'S autograph is not part of any package and must be ordered separately.
ARMIN SHIMERMAN $25 (Sunday)
DOMINIC KEATING $20 (Saturday)
RENE AUBERJONOIS $25 (Sunday)
MAX GRODENCHIK (Saturday and Sunday) MAX, along with appearing on stage as ROM ON SUNDAY, will be present in the vendors room throughout the convention to offer his autograph directly to our attendees, so you will get a chance to meet him if you purchase an autograph. Aron will be offering her autograph for a nominal fee.
ARON EISENBERG (Saturday and Sunday) ARON, along with appearing on stage as NOG on Sunday, will be present in the vendors room throughout the convention to offer his autograph directly to our attendees, so you will get a chance to meet him if you purchase an autograph. Aron will be offering her autograph for a nominal fee.
NANA VISITOR $25 (Sunday)
GARRETT WANG $20 (Saturday)


PHOTO OPS
Photo Op Tickets do not include admission to the convention. You must have an admission ticket for the convention to enter into the photo op areas. Due to security considerations and guest concerns we cannot facilitate the giving of gifts to guests at the photo op sessions. LIMIT OF TWO FANS PER PHOTO-OP, NO EXCEPTIONS PLEASE! TWO FANS CAN BE IN THE PHOTO OP FOR THE PRICE OF ONE PHOTO OP TICKET.
One of the coolest experiences at the convention is having your photo taken with famous Star Trek celebrities. Creation Entertainment's staff photographers are acknowledged as the best by far in the fan field and we make both our attendees and the celebrities feel super comfortable. So get yourself ready for a souvenir simply like no other. Limit of up to TWO fans per photo op. No gift giving is allowed at the photo op sessions. Please visit our FAQs on Creation Photo Ops http://www.creationent.com/cal/phops_faq.htm
JUST CLICK TO OUR E-MAIL FEEDBACK SECTION TO READ ABOUT HOW GREAT CREATION PHOTO OPS ARE!
KATE MULGREW $60 (Saturday and Sunday)
WALTER KOENIG $50 (Saturday)
ARMIN SHIMERMAN $40(Sunday)
DOMINIC KEATING $40 (Saturday)
RENE AUBERJONOIS $40 (Sunday)
NANA VISITOR $40 (Sunday)
GARRETT WANG $40 (Saturday)
GROUP PHOTO-OPS
STRONG WOMEN OF TV WE LOVE: KATE MULGREW, NANA VISITOR: $90 Limited availability (Sunday)

"THE FERENGIS" ROM AND NOG AND YOU! : Wow! You with MAX GRODENCHIK and ARON EISENBERG in costume: don't miss this chance to get a professional 8 by 10 full color photo with our visitors from outer space! (Saturday) $69

QUARK AND ODO TOGETHER AGAIN: YOU with the one and only RENE AUBERJONOIS and ARMIN SHIMERMAN (they are not in costume) $80 (Sunday)
Hotel Reservations
Gaylord Opryland Resort
2800 Opryland Drive
Nashville, TN 37214
P (615) 458-2874 F (615) 458-2901
SPECIAL ROOM RATES FOR THOSE WITH THE CONVENTION ARE $149 A NIGHT FOR SINGLES, DOUBLES OR TWINS, plus a resort fee of $18. Self Parking is $20, Valet Parking is $26. You may reserve on line or by phone as follows:

RESERVATION LINK:
https://resweb.passkey.com/Resweb.do?mode=welcome_gi_new&groupID=18084172

RESERVATION PHONE NUMBER: 877-491-7397
GROUP CODE: STK

Gaylord Opryland Resort & Convention Center Hotel Description
Property Location
With a stay at Gaylord Opryland Resort & Convention Center in Nashville, you'll be minutes from Grand Ole Opry Museum and Grand Ole Opry. This 4-star resort is within close proximity of Opryland Hotel Gardens and Opry Mills.

Rec, Spa, Premium Amenities
Pamper yourself with a visit to the spa, which offers massages, body treatments, and facials. If you're looking for recreational opportunities, you'll find a nightclub, an outdoor pool, and an indoor pool. Additional features include complimentary wireless Internet access, concierge services, and babysitting/childcare.

Dining
Enjoy a meal at a restaurant or in a coffee shop/café. Or stay in and take advantage of the resort's 24-hour room service. At the end of the day, relax with your favorite drink at a bar/lounge
Creation Entertainment holds a "block" of rooms for our attendees. These blocks of rooms have a lower rate than standard rates at the hotel, but they also have a "cut-off" point after which hotels may choose to revert back to their own higher rates for our customers. Usually this cut off date is one month prior to the event, but this does vary. Therefore it is always wise to book your rooms for our conventions as early as possible.
DEALERS:

Schedule of Events
A schedule will be posted as we get closer to the event
All guests and scheduling is tentative and subject to change.

Creation assumes no responsibility for typographical errors or inaccurate information provided by convention venues. All dates, venues and guests are considered tentative and subject to change. Check back frequently for updates.
NOTE: ALL TICKETS ARE NON-REFUNDABLE AND NON-EXCHANGEABLE. ABSOLUTELY NO AUDIO OR VIDEOTAPING ALLOWED AT ANY CONVENTION. Still photography is for personal use only - public dissemination and commercial use strictly prohibited.
By attending Creation events you agree to allow your image to be used on our website and in news documentaries or stories, either filmed by Creation Entertainment or other entities.
All ticket prices are subject to change, please order as early as possible.
In the unlikely event of a cancellation of the convention, or a date change, Creation Entertainment is not responsible for refunding airfare or any other costs other than the payments made directly to Creation Entertainment for ticketing. Also in the unlikely event, due to weather, transit issues or last minute illness or other reason given by celebrity, an advertised guest does not make their appearance at the convention, Creation Entertainment is not responsible for any refunds other than separate specific to the guest autograph tickets or photo op tickets. In the extremely rare chance that a guest does not finish his or her autographs or photo ops (which has only happened in a hand full of cases over 40 plus years, always due to something out of our control) Creation Entertainment will only be responsible for the refund of the separate autograph or photo op ticket.